WEST HAM – BRIGHTON
Pre Game
Happy New Year everyone! The second day of January marks my return to London after a lovely festive period in Essex with family and friends, and I will also be heading to The London Stadium for my first West Ham game of the new year when Brighton come to visit.
Overall West Ham had a very impressive December, picking up five wins out of a possible seven, however, their final game of 2018 was an embarrassing, lack lustre performance against relegation candidates Burnley which resulted in a 2-0 loss. Brighton, on the other hand will be coming into this game with a boost in confidence having gone two games without a loss, grabbing a 1-1 draw against Arsenal before beating Everton 1-0.
Since Brighton's promotion to the Premier League, West Ham have failed to beat them in all three encounters, losing 3-0 at the London Stadium as well as 3-1 at The Amex last season before harshly losing 1-0 at The Amex back in October, an away game that I attended on a cold Friday night.
The biggest thing for West Ham to concern coming up against Brighton is Glenn Murray, he is by far not the most talented footballer in the league and he is getting old now, but he always manages to find the back of the net against West Ham, even during his Crystal Palace days.
As for West Ham, they need to bounce back, the performance and result against Burnley wasn't good enough, but the players and coaching staff will know that. West Ham certainly have the players to get the win, it all comes down to how the players are coping with their New Year hangovers.
My Prediction
As long as Glenn Murray is on the pitch I cannot see West Ham keeping a clean sheet, although I do think West Ham will end Brightons three game win streak against the hammers. It'll be a close game but i'm going to go for West Ham 2-1 Brighton.
FT West Ham 2-2 Brighton
Pre Game
In most circumstances a West Ham game is the biggest moment of my day. Having driven back to London, unpacked everything I took back to Essex for Christmas and all the other hassle that comes from that, I just wasn't feeling up to the game, in fact, at times I even forgot that there was one.
Once I started to walk from Westfield to the stadium and I was surrounded by West Ham fans chanting and I was shivering courtesy of the crisp winter air which immediately becomes ten times worse when Christmas and New Year have passed, I was in the mood for a game of football.
The nerves were minimal, in fact, all emotions towards the game weren't there until the game started. What I was feeling was warmth, which may sound weird because of how cold I was. It was warmth because I was back somewhere that, in most situations, has me feeling great, feeling good about my life and it felt like I hadn't been for a while with my mind having been set on Christmas and New Year.
Kick-Off
Early Exchanges
A slow start immediately had me crashing back down to earth as frustration kicked in. The warmth of being back somewhere I love and that overall sense of a fresh start into the new year almost went out the window.
The first half was a very dull performance from both teams if i'm being honest, here I am writing about it the next day and I can't really think of anything notable that caused an emotional response from me. There were no clear cut chances from either side that created a sense of excitement if it were West Ham or anxiety if it were Brighton.
Half-Time
Goaless at half-time and the game would have to drastically spring to life if there was going to be any other outcome other than a 0-0 draw. I was bored when half-time rolled around, this game certainly wouldn't be living long in my memory and I was hoping it wasn't going to be a visual representation of what 2019 would be for me.
Second Half
Goal! 56 minutes |West Ham 0-1 Brighton, Dale Stephens
There it was. Here we go again. Whatever you want to say. A poorly dealt with set piece is volleyed home by Dale Stephens. I would say against the run of play is wrong but it certainly wasn't deserved. I was pissed off, i'm not going to lie, but at the same time this game was in dire need of a goal and now it had one, just a shame it was for Brighton.
Although I was pissed off and there was frustration, I was hopeful that West Ham would wake up and the game would spring into life and West Ham would turn the game around as they did against Southampton a couple of games ago.
Goal! 58 minutes |West Ham 0-2 Brighton, Shane Duffy
Another corner. Another goal. Unbelievable, once again a corner was poorly dealt with and Brighton took advantage of it through Shane Duffy. The goal, the circumstances, the way Brighton celebrated as if they had won the league, yeah I was furious.
So tacky, so lethargic and just not good enough. When West Ham lost 0-3 to Brighton at home last season I was devastated, when we lost 1-0 at The Amex in October I was frustrated but could see the funny side, whereas here I was just angry, this is a game West Ham should be winning, and here they are losing 0-2.
Goal! 66 minutes | West Ham 1-2 Brighton, Marko Arnautovic
I tried not to over celebrate this one, but I was buzzing. In years gone by West Ham going 0-2 down at home would have been game over, despite however long there was still to play.
As soon as Brighton took a two goal lead they incorporated the traditional tactic of sticking 10 men behind the ball and winding the clock down by all means necessary.
However, West Ham didn't let them, for the eight minutes between the goals West Ham bullied Brighton and got the goal they deserved to halve the deficit and that fight and desire shown to get back into the game had an emotional response from me of sheer joy.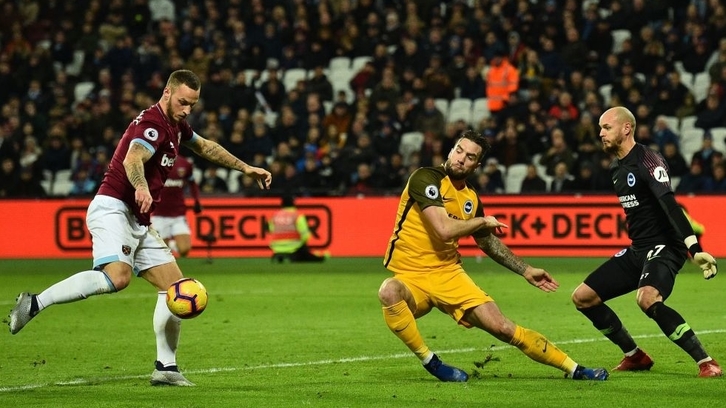 Goal! 68 minutes | West Ham 2-2 Brighton, Marko Arnautovic
Here we go! The game was alive and kicking now as West Ham pulled it back to level pegging. As they did between Brighton's second West Ham's first, West Ham continued to bully Brighton and just two minutes later the game was level at 2-2, and I was thrilled.
There was excitement generated by the flare in which West Ham pulled the game back and there is always a little bit of joy that comes from silencing some away fans that have over sold themselves thinking the game was won.
Full Time
Unfortunately West Ham could't find a winner, so I guess i'll have to settle for the draw. Ahead of the game I wanted a win, despite how little emotional anxieties there were beforehand. At half time I thought i'd be asleep before the end and in the 60th minute I thought I was on the way to seeing another thumping at the hands of Brighton. So all things considered, i'll settle for a draw.
As I sign off this blog post I just want to talk about the players reactions on the night and how there was something to take from that. At 0-2 down West Ham had to fight their way back into the game, and they did, and were rewarded with a draw.
It may seem obvious, but that fight to work towards what we want to achieve is something we all have to incorporate into our lives.
West Ham were losing 0-2, they didn't want to lose the game, so they fought back. As they were fighting back and throwing men forward, Brighton could have countered and made it 0-3 which would have been game over. So there is an element of risk involved, as there is in everything we will do in life.
It's important to not let the fear of striking out preventing you from taking a risk.
So there you have it, a 2-2 draw against Brighton to kick start West Ham's 2019. As far as my emotional response is concerned it started off heading downhill before being redeemed in the last 30 minutes, but I also left the stadium with a feeling of motivation and sense of drive of how to go about my goals for 2019.
Happy New Year!